Tom Holland was spotted filming "Spider-Man: Homecoming" in Queens, New York on Monday, September 26. The 20-year-old actor, who plays Peter Parker, was seen exiting a subway without his Spidey costume.
Tom wore a grey jacket paired with a white tee, blue jeans and white shoes. He carried a black backpack and sported earphones. At one point, he was seen drinking from a paper cup. He was later seen in another outfit consisting of a grey sweater over a plaid shirt and dark grey jeans. He still sported his grey jacket though.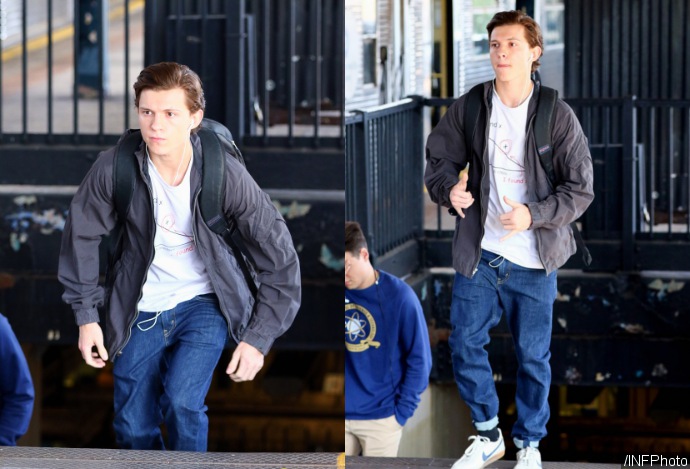 In two videos shared by a fan, Tom was seen making a quick change into his superhero costume in an alleyway after emerging from the subway. He was struggling to put on the costume by himself as his character didn't wear the costume beneath his street clothes.
According to the fan who took the videos, Peter saw a bad guy attacking a convenience store and headed straight into action.
Another video #SpiderManHomecoming pic.twitter.com/UeU8T3yjM2

— about tom holland (@abouttomholland) September 26, 2016
hire me to be director look at this excellent HD footage pic.twitter.com/i8XnIuhC2w

— Captain Ahmedica (@thatguyahmed) September 26, 2016
Directed by Jon Watts, "Spider-Man: Homecoming" is set to hit U.S. theaters on July 7, 2017. Michael Keaton, Zendaya Coleman, Donald Glover, Jacob Batalon, Laura Harrier, Tony Revolori, Tyne Daly, Bokeem Woodbine, Marisa Tomei and Robert Downey Jr. are also starring.
© AceShowbiz.com
Source : http://www.aceshowbiz.com/news/view/00101177.html