Hollywood's enigmatic power couple, Brad Pitt and Angelina Jolie, are in the throes of domesticity and relocating to a chateau in France's famed Provence region, a local official told AFP.
The couple are moving their furniture into the Miraval area property, in the heart of the southeastern Var region, in time for Jolie, 32, to give birth to twins.
"They are settling in and bringing their furniture," while American owner Tom Bove moves out of Chateau Miraval, said local mayor Michael Latz...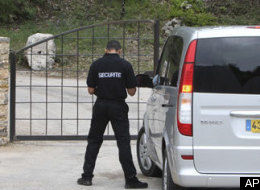 A witness confirmed having seen a moving van Friday morning on the chateau premises, which are closed off by an iron gate. Guards stood watch and dissuaded inquisitive passers-by from approaching. (Photo bottom left)
The regional Var Matin newspaper recently said that the couple is not intending to buy the 17th century estate, which is surrounded by 400 hectares (1,000 acres) of forest and vineyard.
Instead, they will rent the property for three years from Bove, who is already known to the couple...
Latz said the couple expressed interest in learning about the grapes and wine produced by the estate -- "a very high quality organic wine".
-or-
See pictures and a map of Chateau Miraval
Source : http://www.huffingtonpost.com/2008/05/30/brad-and-angelina-move-in_n_104310.html